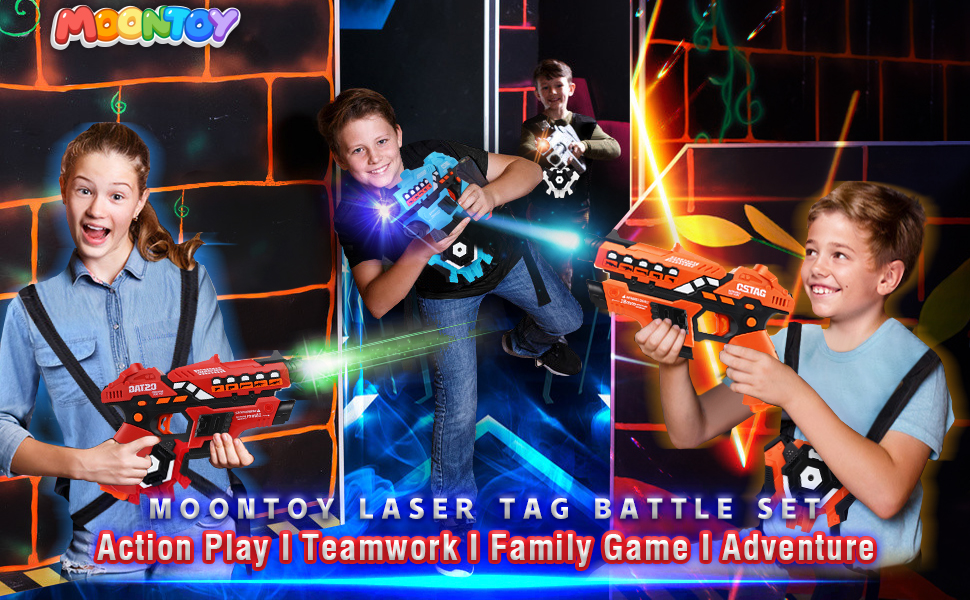 MOONTOY Laser Tag Gun Battle!
2020 Newest Generation Update Laser Tag Gun--MOONTOY laser tag gun. It features innovative functions and game fun from an ordinary laser tag gun on the market.
What makes the MOONTOY Newest laser tag gun set superior to any other laser gun out there?
Spray Water Mist - When the vest is hit and loses all life values, it will spray water mist and vibrates. (4 water bottles included)
LCD Screen - Check your remaining bullets and life values anytime, add bullets in time and save strength.
5 Weapon modes- Machine gun, submachine gun, shot gun, laser gun, single shot.
Futuristic Vest - The laser tag vest lights flicker differently when life values are lost. The middle part also indicates the team color. Switch and water reservoir included.
Realistic Sound & Coolest Light -Guidelines for use. Increase the intensity and fun of battle.
150Ft Shooting Range - Works flawlessly indoors or outside.
Multi-Player Team - 4 teams colors: red, white, blue, orange. Signals are compatible with more gun sets. You can expand team size and increase the difficulty of the game.
Child Safe - Infrared signal emission 18mm. Certified safe for kids by FDA and CPSC.